Barron Catchment Care is working with Tablelands landholders to help improve the health of their properties through revegetation and weed management – restoring critically endangered Mabi Forest.
The project runs to June 2024 and is funded by the Queensland Government's Natural Resources Recovery Program (NRRP).
The project aims to link remnant patches of Mabi and improve landscape resilience to natural disasters and climate change by:
Revegetating along waterways to increase native vegetation – with a Target of 5 hectares.
Controlling 3 hectares of weeds to improve condition of existing native vegetation.
Creating community awareness and engagement in restoration and management of Mabi Forest.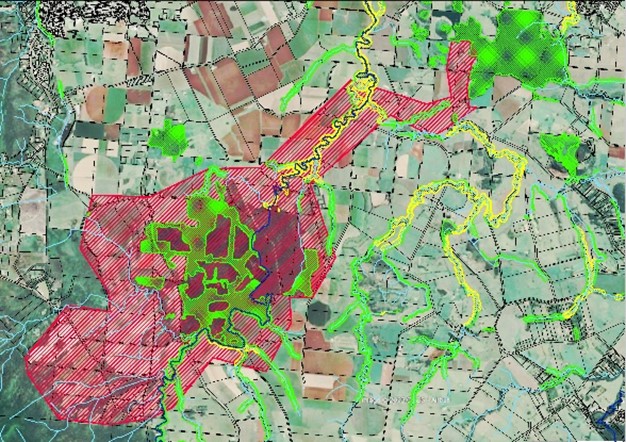 Proposed project site along waterways between Curtain Fig National Park and Wongabel State Forest
Participants in similar projects report benefits such as:
Improvement in soil conservation and land stability
Positive impact on water quality
Reduced runoff
Shade and shelter for stock
Improved property presentation
Expansion of Mabi remnants and improved connectivity provides habitat for threatened wildlife and builds resilience to the threats of climate change.
Mabi Forest is a unique, critically endangered rainforest ecological community found in small, isolated patches on the Atherton Tablelands. Being heavily fragmented only 3% of the original cover remains. Mabi has a dense shrub and vine layer and is home to over 130 bird species as well as threatened plants and animals, including the Lumholtz's tree-kangaroo and the small shrub, Atherton Sauropus.